Buyers Get Paid at Closing - for Osprey Florida
Your Osprey Real Estate Dashboard
HomeMaxi's GOLD Program for Buyers – Unlock Your Rewards Today!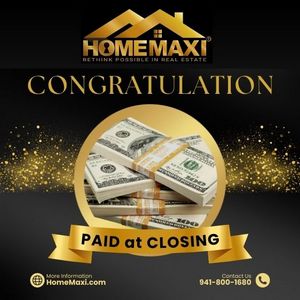 Get Paid at Closing with HomeMaxi's GOLD Program when buying real estate in Osprey, FL. Are you ready to dive into the world of real estate? Look no further than HomeMaxi, your devoted buyer's agent that guides you through the process and rewards you along the way. It's time to seize the opportunity and get paid at closing when you choose HomeMaxi as your trusted partner.
In Florida, it's customary for sellers to cover the commission fees for both sellers' and buyers' agents. Typically, the commission is set at 6%, with 3% going to each agent and brokerage involved.
By selecting HomeMaxi as your dedicated real estate agent, we earn half of the commission paid by the seller. But here's the exciting part – we want to share the wealth with you! When you engage HomeMaxi, not only will you have an expert agent by your side, but you'll also receive a generous percentage of our commission at closing. It's our way of saying thank you for choosing us as your trusted partner in this journey.
We understand the importance of transparency and ensuring you know what to expect. That's why we keep you informed about the commission percentages on all the homes you're interested in. With HomeMaxi, you can plan ahead and envision the extra funds you'll receive at closing.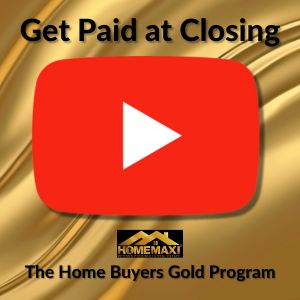 So why do we offer this unique program? We believe in using the latest technology and in optimizing our operation to become more efficient. At HomeMaxi, we are striving to pass these savings on to you when you are buying real estate with HomeMaxi as your agent.
We're eagerly awaiting the opportunity to help you secure the best real estate deal you can imagine. Take the first step by filling out the form below, and let's embark on this exciting journey together. With HomeMaxi as your ally, you'll not only gain a knowledgeable real estate agent, but you'll also reap the rewards that come with it.
Take advantage of this incredible chance to navigate the real estate market with a trusted partner and receive a well-deserved payout at closing.
Your share of our commission starts with filling out the form below.
Try out our calculator and see what you will receive at closing.
Wouldn't it be lovely with some extra cash at closing? Signup below!
Enroll in the "Get Paid at Closing" with HomeMaxi
Terms and Disclosures:
HomeMaxi's "Get Paid at Closing" program, described in detail above, is only valid for home buyers purchasing residential properties in the area specified. The program is only available for single-family homes, condos, townhomes, villas, and vacant land. Commercial properties are not included. The program is only available to new customers signing up using the form above. Existing clients can request participation when interested in purchasing properties in the area covered by the program. Home Maxi LLC reserves the right to cancel, terminate, or suspend the Program at any time, with or without cause, at its sole discretion. Such cancellation, termination, or suspension may occur prior to or during the Program's duration without incurring any liability or obligation towards the Participant and/or HomeMaxi. Because the "Get Paid at Closing" program is only active for specific geographic areas, you might find that HomeMaxi might have a similar program for other areas as well as areas where there are no active "Get Paid at Closing" program in place. Please check our community pages to see if the "HomeMaxi Get Paid at Closing" program is currently active for a particular area you are interested in. The "Get Paid at Closing" is made in accordance with Chapter 475, Part I, Florida Statutes and Florida Administrative Code 61J2-10.028 section 2 that dictate full disclosure to all parties to a real estate transaction when a commission is shared with a buyer in the transaction. This includes full disclosure toward mortgage brokers and lenders servicing the buyer. The "Get Paid at Closing" amount paid to a buyer client is not considered income in the eyes of the IRS but an adjustment in the purchase price. Reference "Internal Revenue Service Number: 200721013 Release Date 5/25/2007 Index Number: 61.00-00, 6041.00-00. Buyer clients must do their own due diligence and consult a CPA to verify this information.