Port Charlotte Florida
Zip Code 33952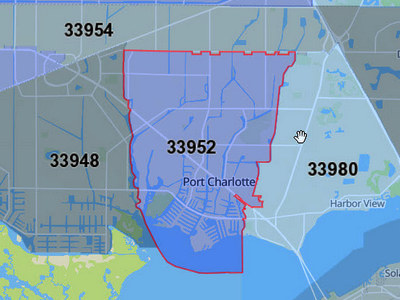 Nestled between the stunning beauty of Charlotte Harbor and the intricate canal system, Port Charlotte's zip code 33952 covers a diverse and sought-after area of the town.
From its central location to the southern border, this zip code encompasses a mix of luxury and natural splendor. Along its waterfront, some of the most coveted and upscale homes in Port Charlotte can be found, showcasing breathtaking views and access to the boating paradise of Charlotte Harbor.
In addition to its scenic allure, this area is home to prominent hospitals that cater to the medical needs of the entire Port Charlotte community. These hospitals offer a wide range of advanced healthcare services and treatments, ensuring the well-being of residents and visitors alike. With its unique blend of opulent residences and top-tier medical facilities, zip code 33952 stands as a prime destination for those seeking both luxury living and access to comprehensive healthcare in the heart of Port Charlotte.

All Homes listed in 33952
September 23, 2023
All Homes listed in 33952 by Price
PORT CHARLOTTE • FL • Real Estate
Looking to sell or buy a home in Port Charlotte, Florida? Call HomeMaxi, your Port Charlotte real estate team at (941) 800-1680. We are your Port Charlotte REALTORS® and experts on the Southwest Florida housing market.