Port Charlotte Florida
Zip Code 33981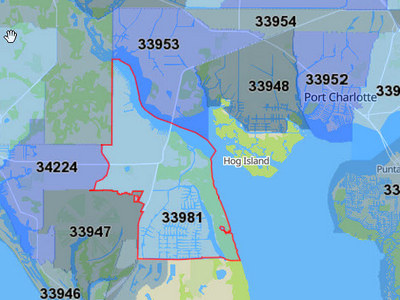 Port Charlotte's zip code 33981, which covers the western part of Port Charlotte and includes Gulf Cove, the Gardens of Gulf Cove, and South Gulf Cove. This area is known for its extensive canal system and has witnessed substantial new construction in the last 5-10 years, resulting in the creation of incredible beautiful homes.
Zip code 33981 is perfectly situated between the enchanting beaches, sparkling water, and the majestic Mayakka River. It offers residents the best of both worlds, with easy access to natural wonders and the vibrant central Port Charlotte. The area's extensive canal system allows residents to enjoy boating, fishing, and other water-based activities right from their own backyard.
With its proximity to stunning beaches and an abundance of recreational opportunities, 33981 attracts those who appreciate an active coastal lifestyle. Furthermore, the zip code benefits from being conveniently located near the central part of Port Charlotte, with its myriad of stores and activities, providing residents with a wide range of shopping, dining, and entertainment options. Zip code 33981 is a haven for those seeking the perfect balance between coastal living and urban amenities, making it an ideal place to call home.
All Homes listed in 33981
September 23, 2023