Port Charlotte Florida
Zip Code 33953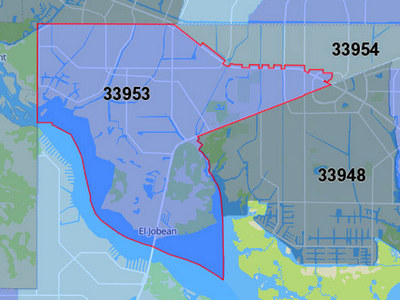 Situated in the picturesque northwestern region of Port Charlotte, zip code 33953 showcases the beauty of the Mayakka River and an abundance of waterways. This area is a haven for those seeking a waterfront lifestyle, with a plethora of opportunities for boating, fishing, and recreational activities.
One of the highlights of this zip code is the highly sought-after Riverwood community, known for its stunning homes and upscale amenities. As 33953 extends towards North Port to the north, it also includes the bustling 41 Tamiami Trail, a major thoroughfare where numerous new strip malls have emerged, offering a wide range of shopping and dining experiences.
Adding to the charm of this zip code is the recently established Centennial Park, providing a gathering place for residents and visitors to enjoy outdoor events, leisurely strolls, and community festivities. Zip code 33953 is a vibrant and picturesque area of Port Charlotte, where the allure of the waterways, the exclusivity of the Riverwood community, and the convenience of modern amenities come together to create a truly desirable place to live and explore.
All Homes listed in 33953
September 23, 2023
All Homes listed in 33953 by Price